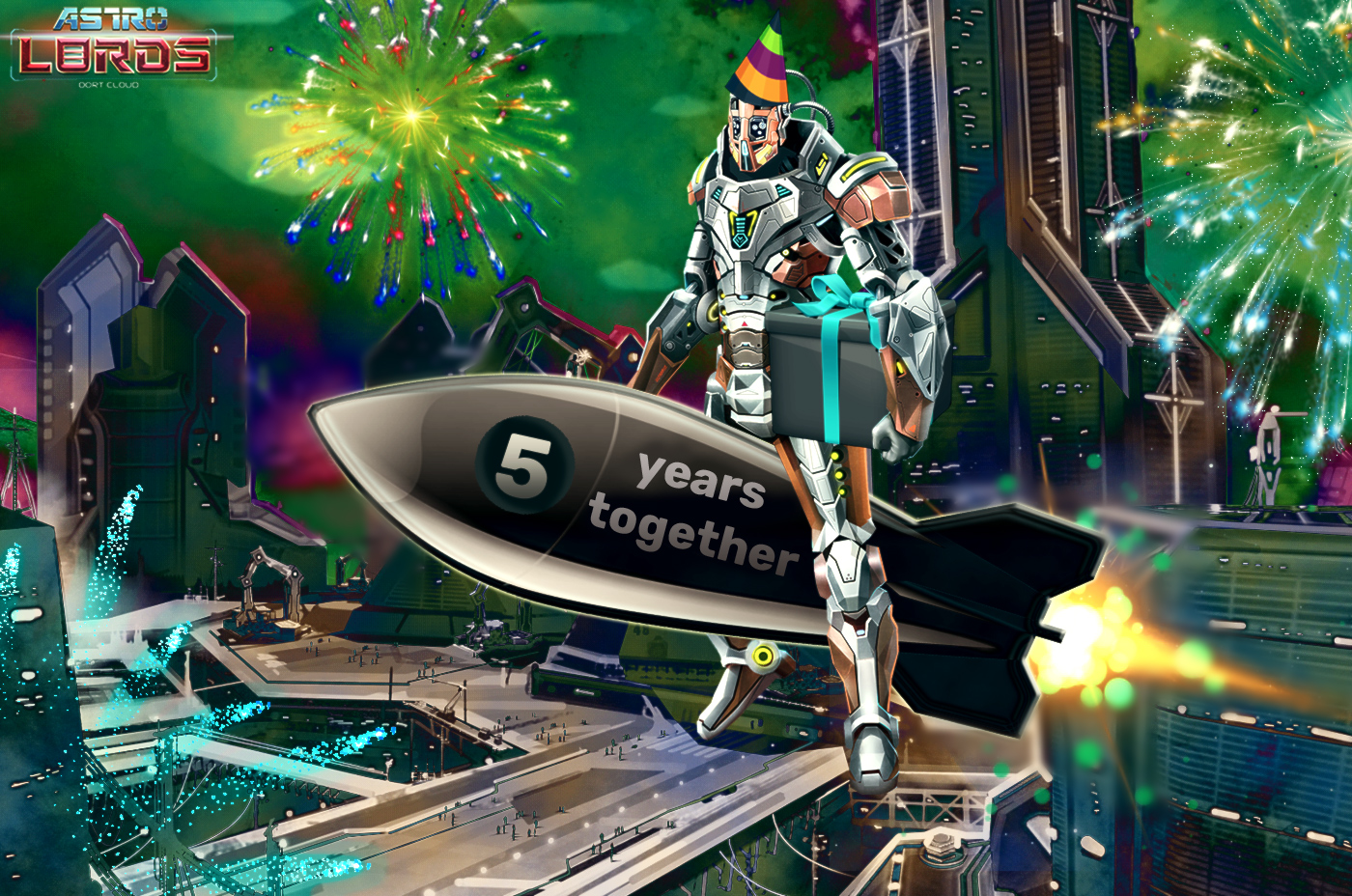 5 years ago, on May 30, 2014, Aratog Games released the multiplayer (MMO) space 3D strategy Astro Lords: Oort Cloud. Since that time, more than half a million players have come to the game, who have completed 8 million tasks at the Advisors. Since the launch, the players have managed to mined almost 11 million tritium, which is equivalent to $ 110 thousand.
This is a common achievement and victory. Happy Holidays, Lords!
In honor of the holiday in the game from May 28 to June 9, the following events will held in the game:
1. When making payments through the WebMoney and Xsolla payment systems, you will receive + 100% deuterium for free! en.astrolords.com/purchase
2. Discount on the all assortment at the Store -40%
3. Five-time experience for the first victory of the day.
4. Acceleration of Science, the speed of mined of crystals, the production of Factory +100%
5. Doubled the number of crystals and microchips that can be found in the nebulae of crystals and microchips, respectively.
6. Vacation in the Navy for a week.
7. Discount on all global premium services -30%
8. Discount for premium ships:
- in the game in global services -30%
- on http://ru.astrolords.com/promo in packages -50%
9. Discount on activation of Sciences -33%
10. The number of Deuterium and Credits, which fall in the boxes in battles, is 3 times increased.
11. Discount on the purchase of premium asteroids, including secondary ones -33%.
12. Discount -30% in deuterium/tritium while improving Factory up to level 10.
13. Discount on improvement and transition of the premium Starbase -30%
14. Increased chance of finding improvements in Unusual Nebula.
15. On an ongoing basis: reduced the percentage of captured resources and base ammunition with a successful robbery mission from 33% to 25%.