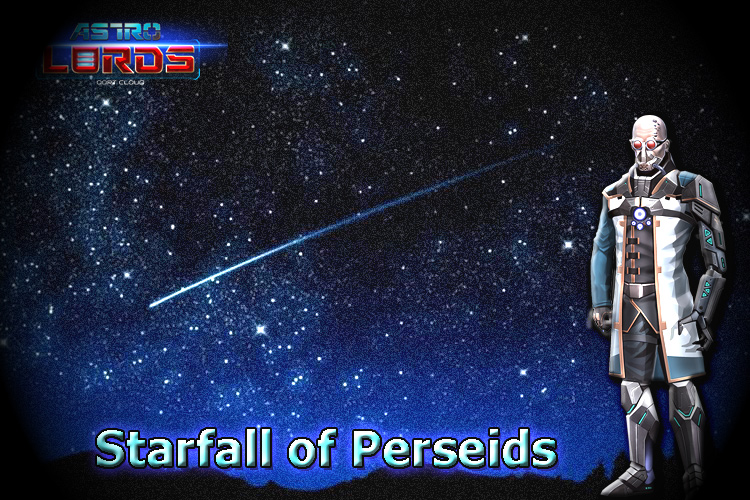 Of course, a lot of Lords heard of the meteor shower that appears in mid-August due to the Swift-Tuttle comet. Some Lords even heard about the panic that happened last year, and how the Traders sold the remains that to leave planet Earth. There wasn't panic this year, news media practically did not cover this event. But we have irrefutable evidence that the Lords are already extracting the useful resources that the meteor shower carries. And the fact is that the tail of the comet consists of tiny particles of ice, dust and stones, and the clever Lords realized that this was wealth, and each of them sent its fleet to the vast expanses of Cosmos.
Nothing has changed with ratio to the Traders - they want to leave the Planet again, because filling the Market with so many resources, improvements and materials caused huge discounts.
From August 19 to 26, each lord will be able to take advantage of the following discounts:
1. Discount on the entire Store -50%.
2. Reset skills and the dismissal of captains -75%
3. Discount on all premium ships -25%.
4. In the nebula of crystals and microchips, you can find 2 times more resources.
5. Twice expedited explore missions.
6. Production of cyborgs and nano plants accelerated by +100%
7. The cost of global premium services -25%
8. Discount on the activation of science -33%
9. Discount on the construction of factories of the 10th level -30%
The impact of a comet entails constant changes:
1. Prices for some Improvements are reduced:
- Cost of student-officers -30% in tritium
- Gold Installation Shahid from 75k to 50k deuterium
- Gold Cooling System from 50k to 40k deuterium
- Gold Badge of Ruthlessness from 50k to 35k deuterium
- Gold Badge of Courage from 60k to 50k deuterium
- Gold Modifier from 50k to 35k deuterium
2. Changed the reward in the quest "Earth Fleet: Salary of the Admiral Fleet": 25 tritium, 350 deuterium.
3. After a long debate, the Trading guild approved a new strategy for selling tritium at auction. The number of bet increased, but the amount of tritium in bet decreased for the wider distribution of such a rare and valuable resource.
4. Minor adjustments in the science of dismantling.
Do not miss your chance!