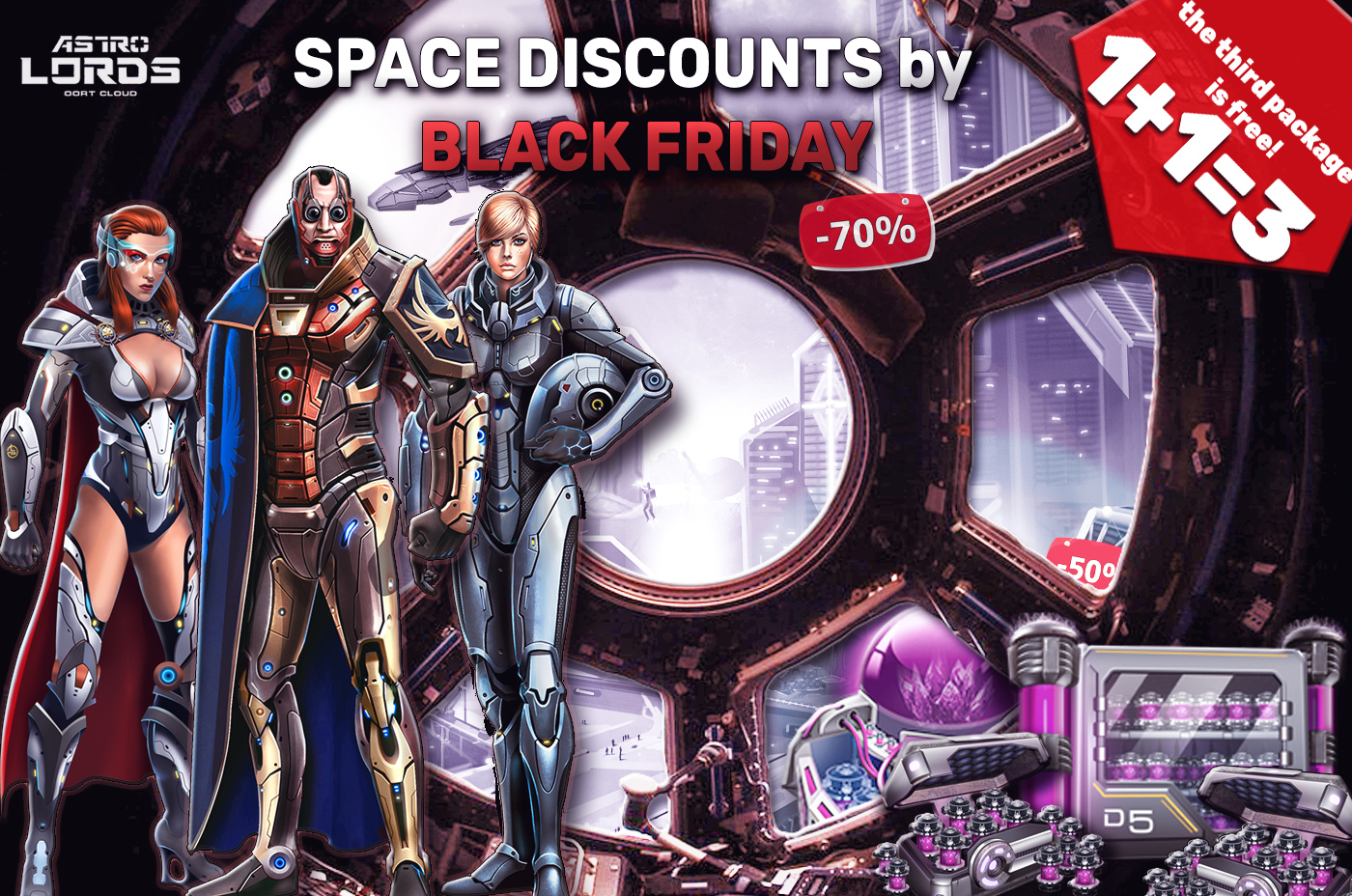 Only from November 26th to December 1st, each Lord can see space discounts, from which the head goes around. In addition to discounts and promotions "1 + 1 = 3", you will also find the "Assassin" addon!
1. When you purchase, you get +100% deuterium (except for the package "deuterium flask").
Promotion "1 + 1 = 3":
Only once a year: when buying two identical packages - the 3rd package free!
* For example, when you buy two packages of Case deuterium - the third one is absolutely free.
 ** To receive a gift you must write to Support.
2. Package: Black Friday with a 93% discount (contact account Dealer)
3. -33% on the activation price of all sciences.
4. Discount on the purchase of the entire assortment of the Store - 50%.
5. -33% on all premium asteroids
6. -20% discount in deuterium for improve and transition from regular to premium Starbase.
7. Discount for premium ships -25%, and for the remaining global premium services -50%.
8. Dismissal and reset skills -75%
Addon "Assassin"
General changes:
- Added 8th level Assassin Leader skill. Activated per 10 points.
- despite of +100% damage, didn't increase of the consumption of lasers and rockets when studying the 8th skill level of Assassin
- starting from the 1st level of Assassin, the accuracy of autopilot shooting is 100%
- added ability to move Assassin to any distance
Base ship:
- Basically added +1 slot for artifacts and officers, and when studying the maximum skill level Assassin +2 slots
- the basic limit of ammunition is 80, it was - 60
- damage of the opponent by shield ship -25% when studying the 8th skill level of Assassin
Premium ship:
- Basically added +2 slot for artifacts and officers, and when studying the maximum skill level Assassin +4 slots
- the basic limit of ammunition is 160, it was - 120
- at level 8 of the Assassin skill, + 450% damage and +2 to the volley of drones and construction are added
- damage of the opponent by shield ship -50% when studying the 8th skill level of Assassin
- the price of the Assassin premium ship has been reduced from 30,000 to 20,000 deuterium on an ongoing basis