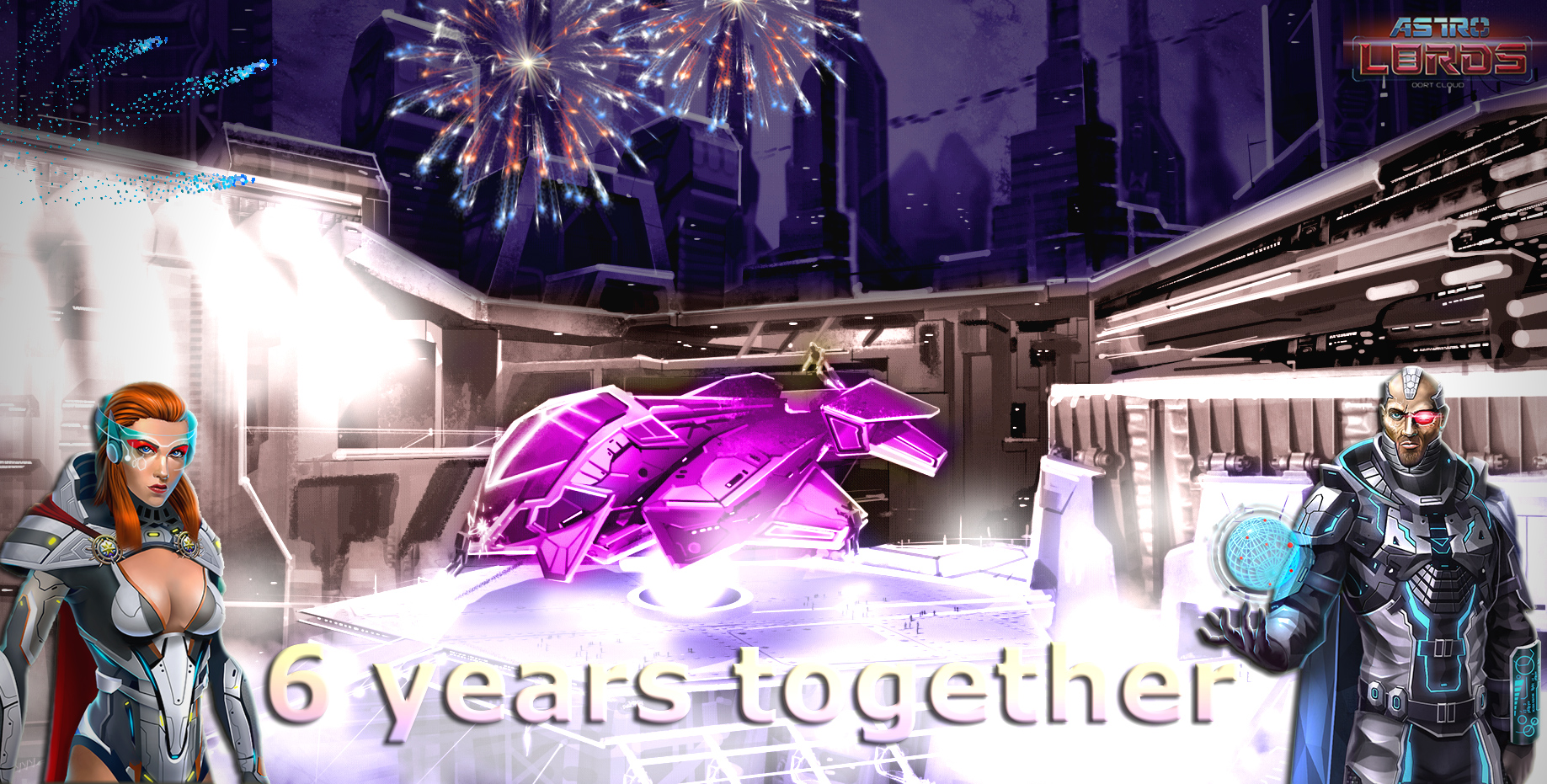 6 years together!
Many do not believe and did not believe ... We are the administration, just as we cannot believe that for six whole years the Oort Cloud has united us all.
On this momentous day, first of all, we thank our players - without you nothing would have happened and would not have happened, you are the support and protection of the entire Oort Cloud from hordes of Aliens!
In honor of the birthday of the game from May 30 to June 7, space discounts and even more improvements await you:
1. Making payments through WebMoney and Xsolla payment systems, you will receive + 100% deuterium for free! (except package Deuterium flask)
2. Discount on the purchase of the entire assortment of the Store -50%
3. 5x experience for the first victory of the day.
4. Acceleration of Science, crystal production rate, Plant production + 100%
5. The number of crystals and microchips that can be found in the nebulae of Crystals and Microchips, respectively, is doubled.
6. Discount on all global prem. services 50%
7. Discount for premium ships:
- in the game in global Services -30%
- on the site ru.astrolords.com in packages -50%
8. Discount for the activation of Sciences -33%
9. 3 times increased the number of Deuterium and Credits that drop out in boxes in battles.
10. Discount on the purchase of premium asteroids, including secondary ones - 50%.
11. 30% discount in deuterium / tritium when plants are upgraded to level 10.
12. Discount on upgrading and upgrading premium Starbase 30%
13. The chance of finding improvements in the Unusual Nebula is increased 10 times.
Constant changes:
- Changed the name "Station of the sectarians" to "Crystal Station of the sectarians" upon numerous requests in order to avoid confusion of a similar name for another quest;
- In the quest "Fifty Tasks" the number of acceptable failures has been changed from 6 to 10;
- In the quest "[FFFF00] Fleet of the Earth: [-] Assault squad", a reward is set in mini-bots for victory in battle;
- In the quest "Maintenance of the station for Pluto 49" it is now available to use Captains 39-51;
- Rune Gear removed from the sets of runes in the Store, reduced price in tritium;
- Increased the number of lots on the "Improvements" tab in the Store.